Emergency Vet Bills
Veterinary care includes regular check-ups and preventative care, but it also includes emergency vet costs.
If you're facing a big vet bill that you can't afford to pay, we can help – our loan application process is quick and typically we can provide the funds within 24 hours – apply online now in less than five minutes: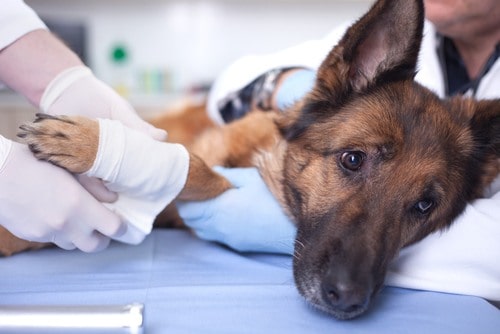 Quick Pet Care Tips
Make sure your pet gets the right amount of food and plenty of exercise. A pet with a healthy weight is less likely to suffer from diabetes, arthritis, high blood pressure, and cancer. And dishing out the proper portions also means less food expense for you. A win-win.
Take your pet for yearly check-ups, so the vet catches problems before they turn into something big and expensive. Early detection will save you money, and ensure your pet maintains a good quality of life.
People doctors may not run specials, but many vets do. If you're shopping around for a new vet, ask if they offer a new patient discount and/or a multi-pet discount. If you already have a vet that you're happy with, find out if they ever run a deal on dental cleanings or other preventative care services. If they do, be sure to schedule your pet's visit then.
Any time your vet recommends a treatment or procedure, request to see a written estimate for the services that are to be performed. This will give you a clear picture of what you can expect to pay, and what is and is not included in that fee. If you see anything that you don't understand, or that seems unnecessary, you can ask about that, too. There may be extra services lumped in that could be removed to get the total down.
Want to shop around for a better deal? With a copy of the estimate, you'll be well-equipped to do that. Having everything in writing makes it easy to ensure you're comparing apples to apples. After all, a cheaper deal is only a better deal if you'll be getting the same quality of service.
Pet insurance can be a good deal, but it's important to understand what it covers and what it excludes before you buy. Compare several companies to see which has the best deal for you, and be sure to evaluate whether you'll get enough value from the coverage to make up for the cost of premiums. Also, consider whether your vet takes the insurance that you're considering. If you don't want to switch vets, it's important to find a company they work with. Many insurance companies offer multi-pet discounts, so pet insurance may be a better deal for multi-pet households.