Explore New York: The Big Apple
Have you been to New York? Everyone who has loved the experience.  We've got Holiday Loan finance available now if you're keen to knock this one off your bucket list.  Apply online here.
A New York City break is sure to be jam-packed! This bustling East Coast metropolis delights with its many sights and interesting neighborhoods in Manhattan and Brooklyn.
There are plenty of iconic New York activities to put on your checklist: Broadway shows, Central Park, the MOMA, and many more. It's important to consider that while spring and autumn may have the best weather, Christmas and New Year's Eve in New York are popular travel times to explore the city when it's covered with snow and lit by a million lights.
New York City is probably one of the most popular cities in the world. Millions of visitors from all over the world flock to the Big Apple every year. Whether you're experiencing Times Square, Broadway shows, gospel music, Rockefeller Center, the Empire State Building, the Statue of Liberty, or simply shopping on 5th Avenue, New York has tons of activities to offer. But New York is much more than a city of grandiose attractions. This melting pot of cultures makes you feel as if you are traveling the world, all in one city.
Nightlife in New York City
A night in New York can start any number of ways. With more than 18,000 restaurants in the city, from fine dining establishments to fast food joints, it can be easy to be overwhelmed by choice. On Broadway, daily plays, revues, and musicals beckon one in for a once-in-a-lifetime experience. Movie theaters show the latest blockbusters as well as timeless classics. Bars offer drinks from the insanely cheap to the completely overpriced. In most clubs, the atmosphere starts to pick up around 11:30 pm. First-class nightclubs can be found in Chelsea, the Lower East Side, or the Meatpacking District.
Tips for going out in New York
1. Eat in one of the thousands of restaurants, making sure to book ahead for more popular
2. Go to a play or musical on Broadway
3. Hit up the movie theaters to see what the latest showings are
4. Head out for drinks at one of the clubs in Chelsea, the Lower East Side, or the Meatpacking District
The most beautiful parks in New York
While on a New York City break, a visit to world-famous Central Park is a must. But what other parks should you try to see during your trip? Let's face it, nothing is nicer than escaping the hectic New York streets for a few hours and enjoying the sunshine in the park. Here are our top picks for the most beautiful parks in New York:
Central Park: Coming in at 3.4 square kilometers, it is the green heart of the metropolis and a must-see
Marine Park: Located in the south of Brooklyn on Jamaica Bay, this park houses a golf course and marina
Greenbelt: Located in Staten Island, it's one of the areas of New York with the largest variety of animal species)
Bronx Park: This 290-acre park is located (as the name suggests) in the Bronx, by the Bronx River
High Line Park: Located in Manhattan on a discontinued elevated railway line
New York in winter
New York's signature flair cannot be dampened even by the icy cold of winter. The metropolis has a lot to offer, even in the coldest months! Especially in the first weeks of the New Year, the city is cheaper than ever and has a unique charm. It's the New York of the movies: steamy streets, children on sleds in Central Park, and couples ice skating in Rockefeller Plaza. You barely have to wait in line anywhere, even popular spots like the Empire State Building or Top of the Rock. You'll almost have the feeling that you have the city all to yourself.
Activities for a New York City trip in winter
Sledding in Central Park
Ice-skating in Rockefeller Plaza
See sights like the Empire State Building without the usual crowds
Go for a new years eve break in New York and celebrate at the Times Square Ball drop
Sound great but all you need now is the money? Apply online here in less than five minutes and then you'll be able to book that trip.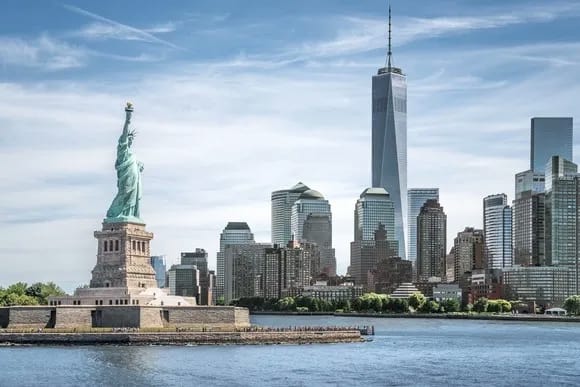 Other Popular Destinations
Inspiring Ireland
Feel fancy in Florence
A for Amersterdam
Kool breaks in Krakow
Let's go beautiful Berlin
Pretty Prague
And more… the World is your Oyster 🙂